Taking photographs to record progress and issues is a known practice in modern construction. As pictures paint a thousand words, a construction professional or facility manager can immediately interpret photographs – especially 360 VR photographs.
Each photograph delivers a time-stamped visual of construction elements and materials. Photo documentation on construction sites can be challenging as there are numerous people, equipment, and materials present at the same time. With the increasing value of technology in the construction sector, the complete photo capture process has improved for the better.
Regularly taking 360 VR photographs has proven to:
Improve communication and complete project milestones across various teams and project stakeholders
Track project progress including movement and installation of elements and materials
Provide evidence of contract compliance
Augment as-built documentation provided to facility managers at the delivery stage
Photo documentation in construction has evolved from physical photos to its digital counterparts through 3600photography stored through cloud storage. From a study, 360o cameras were the second most used capturing device on construction sites in the year 2018. It is also important to manage your 360 photos with a great toolset that helps you manage photos by time and location whilst preparing your as-built documentation.
For construction experts and developers, the margin for error on any new project is very slim. Nearly 80% of the projects end up over budget. But, recently job sites are operating with higher efficiency through 360-degree site photography.
This guide helps outline the best practices concerning 360 o photos captured onsite. It would also help you save time and money to capture and manage onsite 360 photos.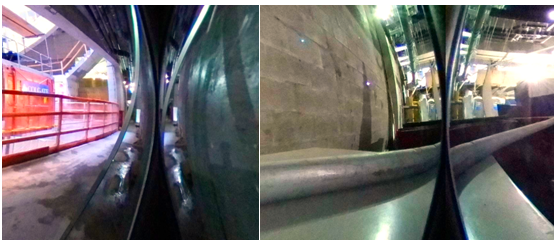 The Harvey Milk Terminal 1 at San Francisco International Airport is a $1.2B project. This project includes an enhanced passenger check-in, a security checkpoint, a re-compose area, a new Individual Carrier System, Baggage Handling, and a new mezzanine with connections to the Air Train and Central Parking Garage, and a secure connector to terminal A. Project contractors leveraged collaborative photo capture for large projects and image content categorization to find photos by activity. 15 Field Engineers were responsible to document their area on the site which was captured independently and further collaborated on in the workflow providing an annual savings of 4680 hours.
The value of 360 photo documentation during various stages of construction.
The Pre-construction Phase
During the pre-construction or design phase, it is always important to think about project documentation that can scale. There are some tips to keep in mind to begin your project.
Track your log or Break the site into various areas.
Breaking your site into various areas of approximately 100 – 250 square feet can help make it easier to track your progress. Various Field Engineers can be responsible for separate areas. Each individual can track the progress of their area using weekly progress photos. For example, if the area "A"is not documented completely due to ongoing activity like steelwork, crane activity, etc. it should be documented and resolved by the Field Engineer.
Labeling your 360-degree cameras.
If multiple cameras are deployed by various Field Engineers, it is important to label each camera. With other tools and equipment, it is also useful to adopt a tracking log and store the cameras in the same location.
Using the right cloud-storage.
Using cloud-based storage to back up your 360 photos helps maintain a consistent experience across the project. It helps construction stakeholders store and organizes 360 photos that can be accessed on any device using a web browser.
Adopt documentation software.
A 360 camera is paired with various devices or software that integrates with a dedicated 360 construction progress tracking software. All the pictures are linked to the specific location on the sheet or floor plan of the project and are organized by the timestamp as well.
Modern Visualization software.
360o photos need software to view them. This software needs to process multiple VR images without being skewed. Besides, it is also important for every project stakeholder of the photo capture and viewing team to view these images correctly.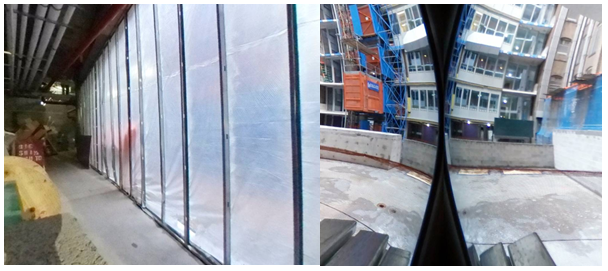 The Construction Phase.
Positioning the 3600 camera in the right way.
This phase of the building project is often documented using 360-degree cameras. A 3600camera mounted on a tripod helps project stakeholders capture the entire space through an unobstructed view.
Photos are most effective when clicked from the same location. Marking areas with a marker during ongoing construction helps improve consistency.
Investing in proper lighting helps generate highly-detailed 360 VR photos. Mediocre lighting produces low detailed photos. An LED wand mounted between the tripod & camera disperses light well.
Appointing project stakeholders to review photos based on categories or locations help manage photos for better project clarity.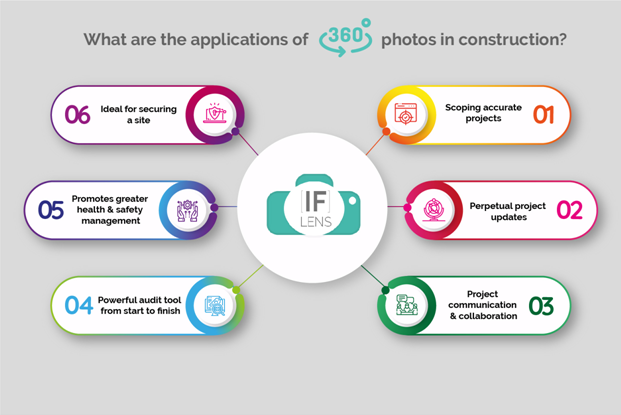 The Final Handover
In the final stages of the project, it is paramount to store and manage 360 photos. If photos aren't organized, it would become unavoidable to document as-built conditions. Furthermore, these photos may need to be accessed for final payments, locate the material, and client presentation.
Streamline your photo delivery.
Delivering 360-degree photos to clients in a way that is easy to navigate creates a streamlined client experience. 360 photos marked with markups, descriptions, or identifiers helps clients understand what they want to see.
Spin-out relevant 360-degree photos.
It is better to organize and provide the most relevant 360-degree photos that cover all the phases of the project. 360 VR pictures taken before or after construction may deliver great value for clients showing the progress and delivering visibility.
The Charter Seattle is a 185,000 sq-ft hotel with a contract value of $52.3 M. There were several challenges in the project including in-slab deck conditions, documenting PT cables, HVAC plumbing, electrical sleeves, rebar, and stud rails. The result is a huge photo deck without any labels concerning a specific area. With 360 photos, a completely digital process record of the construction site can be leveraged. The team reduced photo documentation time by 50% while taking advantage of project deliverables shared with the architect, owner, and other project stakeholders.
What is the true value of comprehensive 360-degree VR photo documentation?
Comprehensive 360 VR photo documentation gets enhanced efficiencies & reduced risks for projects–
High-resolution images with greater HDR characteristics that are ready for inspection
One image frame includes information of at-least six image frames that shows reduced no of personnel are disturbed onsite, and fewer numbers of images are required to be stored and managed
Management of all 360 photos from a single platform
Industry use-cases for 3600 photos
For Construction to document construction progress, as-built conditions, permanent visual records, and change verification
For Facilities Management to document facility conditions, MEP, and inspection documentation
For Industrial Plants to document and inspect plant facilities
Benefits of 360-degree images after construction:-
Build a strong virtual buying experience for customers.
Creates a virtual buying experience through construction documentation using 360 degrees to capture a sequence of construction project images.
Enhance client confidence.
The client can leverage more confidence in looking at a construction project from various angles.
Secure your position in the market.
360-degree imagery in architecture construction or photography helps gain a competitive edge over your competitors.
Cost-effective photography.
360-degree photography is cheaper than conventional photography as it only requires construction photo documentation software and a 360 camera.
Save time and effort.
360-degree photography can be virtually tweaked for lighting conditions or any other suggestions saving time, money, and effort.
UAV or drones to document 360 photos for construction and civil engineering.
Taking high-resolution aerial images from drones to document actual conditions of buildings
High-resolution 360 photos from various views or angles to build project documentation & site monitoring
Documenting Façade and Roofs using UAV's or drones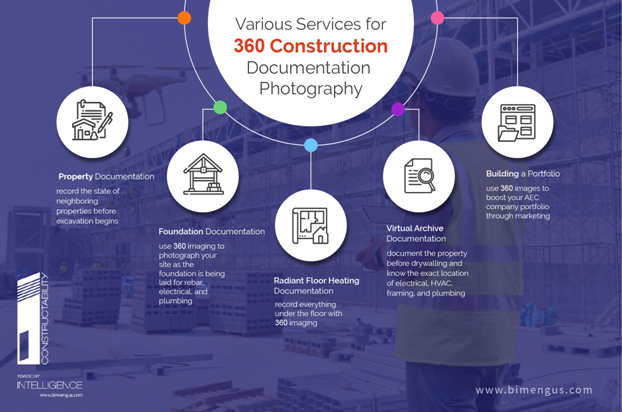 Overall, it may be said
3600photos aren't simply a good idea, but a valuable tool that provides the ability to see through walls. It is also the most valuable technology to have at a job site. Engaging with comprehensive photo documentation services helps streamline as-built documentation to enhance project quality. 360 VR integrated with a myriad of technology like laser-scanning and construction automation tools can help boost construction project value, and save heavily on time and budget. It also helps project stakeholders facilitate quicker, better, and sustainable construction.
Contact Us: – 703-994-4242
Visit us: – https://www.bimengus.com