Summary
One of the most impactful in the construction industry is digital twins
Improving the analytics capabilities of BIM is a key feature of Digital Twins
Virtual construction models can clone every detail of a given building
Individual components and specific materials are detailed with in-depth information
Depth of data in these models is crucial and valuable for construction firms
Detailed digital models can enable better information based on various scenarios in the field
It is the most detailed model as stakeholders can leverage a virtual copy of the real-world structure
Construction companies use digital twins to build detailed models of the existing object or structure
Various simulations can be tested viz. natural lighting, fluid dynamics, HVAC systems, etc.
Digital Twins convey a greater process-oriented characterization through a combination of IoT, Artificial Intelligence, Software Analytics, and Machine Learning
Digital Twins are also deployed to leverage better modifications, maintenance, and operations
Transformational advantages of a Digital Twin
BIM and Digital Twin strategies are built on common principles
Improve process visibility and support project planning
Unifies information from initial design for manufacturers, component selection, onsite delivery, etc. to maintenance and operations
Used in site construction to constantly update information
Reduction in site visits by stakeholders based on information stored & shared in the digital model
Manage and minimize change orders based on smart design & project planning to reduce the impact of schedule and budget on the project
Cost savings by avoiding project rework through data collected by sensors from the job site and updating the As-Built model
Improved collaboration based on a two-way information flow from the job site to the twin, and the twin to the job site
Every team stays on the same page with access to real-time data to make informed decisions
Improved worker safety through real-time tracking worker tracking in unsafe zones based on sensors installed in critical areas to monitor stress and load
Validate project deliverables and constructability through digital twins for reliable maintenance and operations
Monitor building safety with sensors installed in the structure to transmit data to the digital model
Test virtual sequencing and logistics to reduce construction and onsite costs
Optimize operational performance and sustainability
Resource Administration
Build an information tunnel between the field and back-office
Automated data distribution helps resolve resource allocation problems and labor cost bottlenecks
Jobsites become more affordable and efficient
High-quality and value-packed construction deliverables –
High-quality deliverables help owners perform structural enhancements
Offers invaluable insights on perpetual building operations
Clients can leverage DTs to optimize projects in the future
Connected construction –
Utilize and share information from a centralized platform
Update 3D BIM models with automated and constructible information
3D models can integrate dimensions, model details, etc. to maintain model and data integrity
A practical example of a Digital Twin.
Consider multiple high-rise structures working on a centralized HVAC system
If any element of the HVAC system were to malfunction or perform below the required efficiency, sensors would send data to the digital twin and alert maintenance personnel at the earliest
This would reduce time-consuming and costly repairs of the HVAC system
It would also enable greater resident safety and staff safety depending on the type of project
Owners can leverage a better understanding of their buildings or facilities & manage them accordingly
Key considerations firms need to make before connecting BIM with Digital Twins.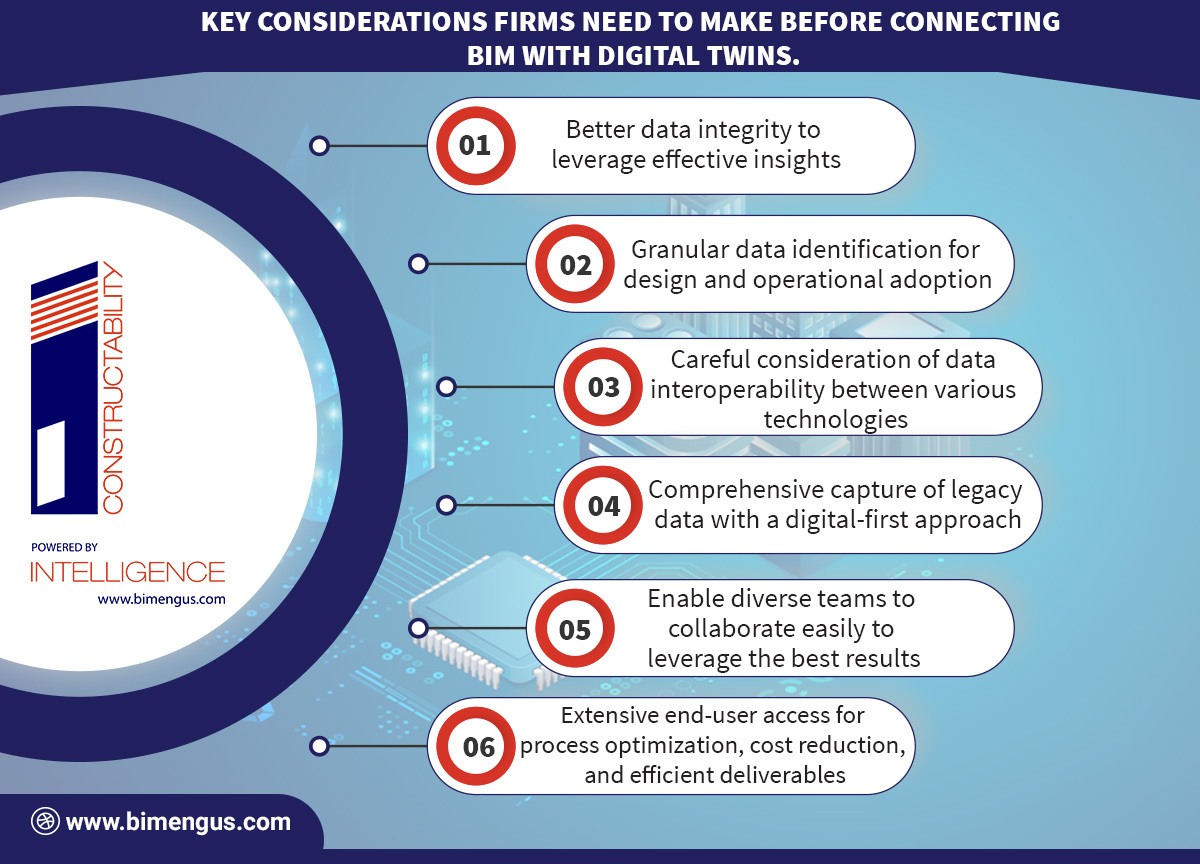 Better data integrity to leverage effective insights
Granular data identification for design and operational adoption
Careful consideration of data interoperability between various technologies
Comprehensive capture of legacy data with a digital-first approach
Enable diverse teams to collaborate easily to leverage the best results
Extensive end-user access for process optimization, cost reduction, and efficient deliverables
Application of Digital twins in AEC and FM, Smart Cities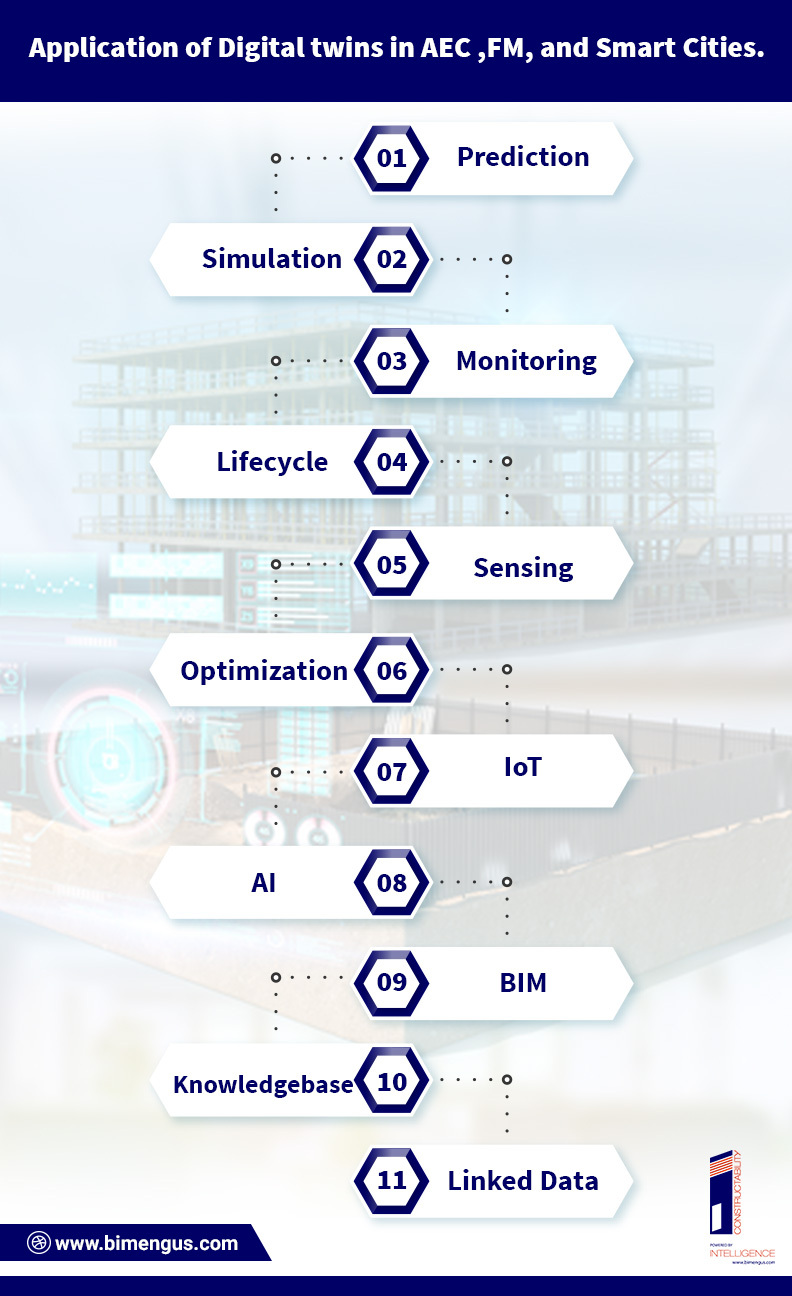 Prediction
Simulation
Monitoring
Lifecycle
Sensing
Optimization
IoT
AI
BIM
Knowledgebase
Linked Data
Optimizing onsite processes using Digital Twins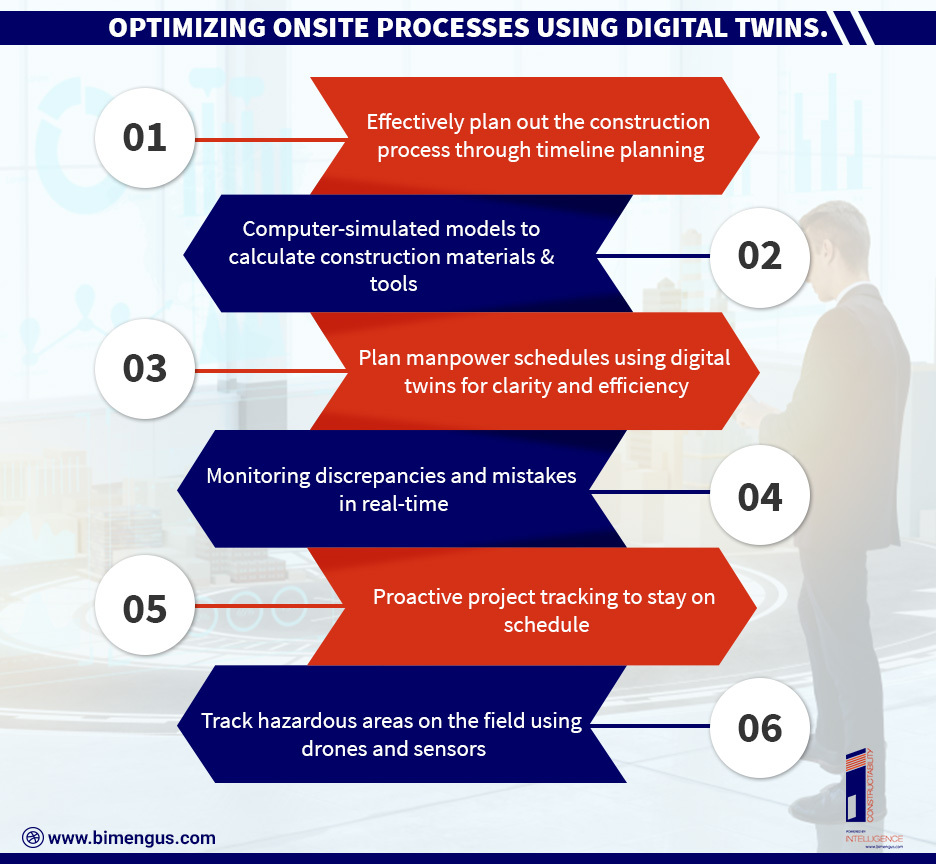 Effectively plan out the construction process through timeline planning
Computer-simulated models to calculate construction materials & tools
Plan manpower schedules using digital twins for clarity and efficiency
Monitoring discrepancies and mistakes in real-time
Proactive project tracking to stay on schedule
Track hazardous areas on the field using drones and sensors
The process to build a Digital Twin
Select the right software to build a digital twin viz. Dassault Systems, Procore construction, etc.
Build the model before construction by recording a digital twin in a computer model
Setup data-collection tools or devices like sensors, smartphones, IoT devices, etc.
Analyze and adopt data during the construction process
Transformational breakthroughs in Modular Construction with Digital Twins
Adopting Digital Twins for Modular Construction can help reduce costs and save construction time
Simulating onsite assemblies of manufactured components can be simulated to prevent rework and save construction time
As DT's have begun playing a major role in modular construction, they can be scaled with these steps:
Build generative design instead of traditional 2D drawings – helps speed up projects and saves time
Analyze component performance before building – digital twins help manufacturers analyze component tolerances through expansion, deformation, etc.
Make data or information accessible to every team and project stakeholder – leverage the power of design algorithms with technical factors to avoid silos
Capture and analyze data from the modular product – integrating sensors into fabricated components helps designers understand the component performance
Conclusion
The construction sector can significantly benefit from adopting Digital Twins in the construction sector
As BIM tools evolve, they need technology that can help unlock new levels of data visibility and coordination
Improving construction requires a true CDE that not only helps people in the field but augments design and operations as well
Perpetually improving everything that can be interacted with by combining multiple data sources will be the next step in sustainable construction.
Contact Us: – 703-994-4242
Visit us: – www.bimengus.com/