Laser scanning, also defined as HDS or High Definition Surveying enables reality capture or high-accuracy mapping using laser beams. It captures a complete detail of the entire construction project. A detailed 3D representation of the building project is defined as a Point Cloud. Originally, applied in the construction & maintenance of various infrastructures like industries, airports, healthcare, and more. Laser scanning has been adopted for many other applications like new projects, renovations, and retrofits.
Applications in Building Construction.
Many construction projects are renovations & retrofits that lack construction or maintenance on the existing facility. In these situations, comprehensive data captured from laser scanners provide the required information on existing building conditions with the accuracy of construction planning.
As construction moves further, the laser scanning data can be used to compare constructed work against the as-designed model or drawings. Adopting laser scanning throughout the project, the new facility will contain as-built documentation from various milestones. This would help owners utilize the documentation throughout the entire lifecycle of the project.
Looking to leverage comprehensive Scan-to-BIM solutions? 
What are the benefits for General Contractors?          
On a typical construction project, rework accounts for more than 12 to 15 percent of the construction cost. With the adoption of laser-scanning, conflicts can be captured to reduce rework by 1 to 3 percent. This reduction in clashes can translate to hundreds of thousands of dollars in savings for change orders, and keeping the project on schedule.
The ability to leverage these insights is the single-most benefit of laser scanning. It helps lower contractor risks by making sure as-built drawings are accurate. It also enables general contractors to expose inaccuracies early on in the construction process. Furthermore, change orders can be minimized during construction. Progressive scanning during construction helps general contractors compare as-designed models and drawings, provide archival records, and document crucial milestones.
The St. Mary's Basilica located in Krakov, Poland was rebuilt on the foundation of the original church that was destroyed in the Tatar Raids. A Point Cloud Model was completed by a 3D BIM company with an extremely high level of detail and color using FARO scanners.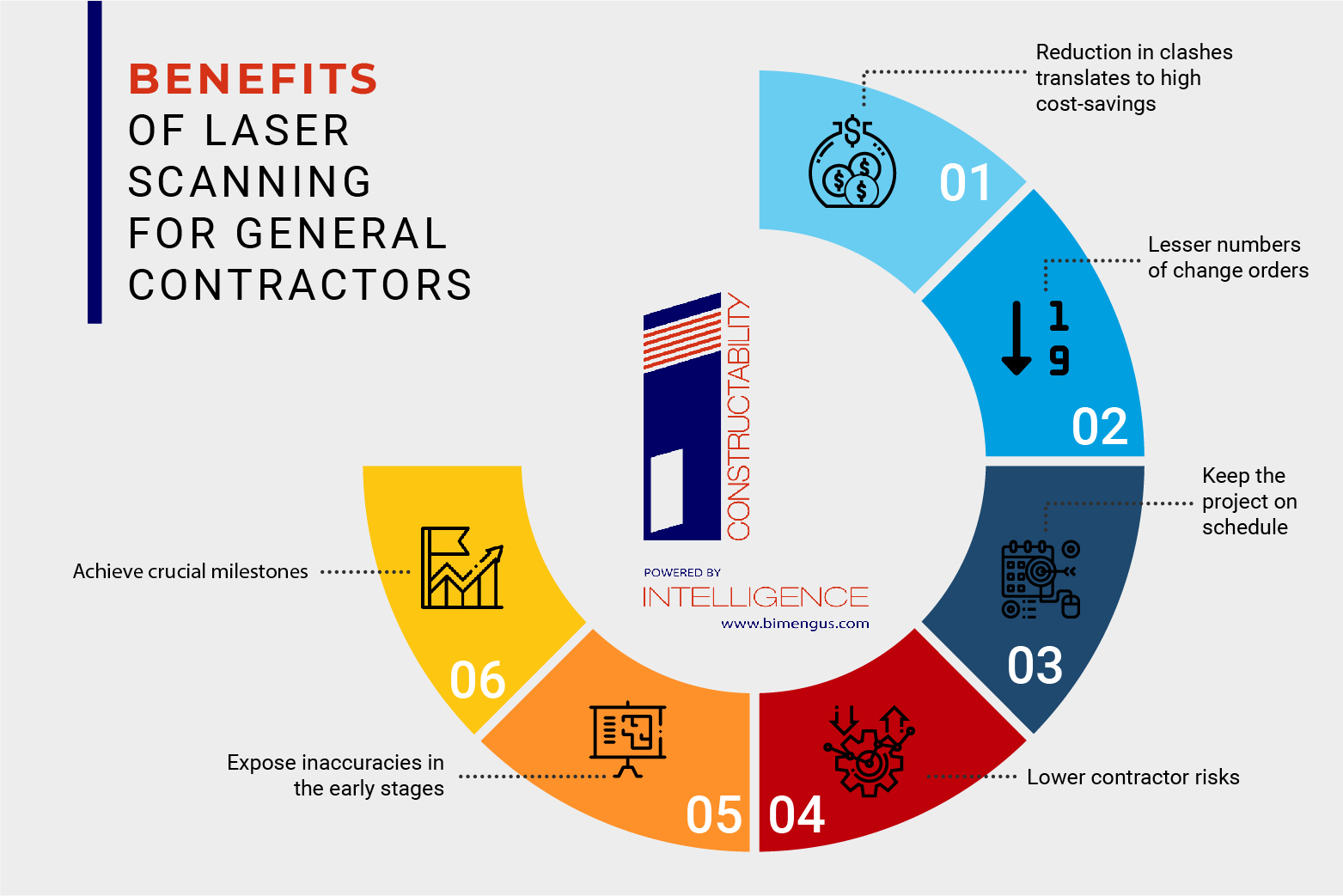 When is laser scanning adopted?
As laser scanners capture reality with high efficiency, they are used in applications where added value needs to be leveraged. This can be categorized into two divisions – New construction and Renovations.
New Construction
Laser scanning can be deployed in a myriad of places to aid the BIM process. Scanning components as they are installed can enable accuracy of a millimeter for data on HVAC, pipes, structural steel, floors, and more with the actual installation date. This information can be compared to the design to verify everything has been installed in the right location. If there are errors, then stakeholders can revise the design and components can be altered for fabrication, rather than indulging in costly rework or changes. Laser scanning aids project stakeholders to determine material volumes that lead to accurate material procurement and less onsite waste.
The Banska Stiavnica is a point cloud project located in the historic town located in the Stiavnica Mountains of Slovakia. The town was laser scanned to create a point cloud model of the town and the surrounding mountains, and the town mine.
Renovations
For renovations, retrofits, or construction extensions that are old or out-of-date, or don't exist at all, laser scanning is the only viable solution that makes renovations and retrofits easy. As the laser scans record whatever they bounce back, it freezes the site in the current form. This data can be imported into various modeling authoring software to develop accurate existing drawings. Once created, laser scanning helps capture construction milestones and leverage quality assurance. It is a powerful tool that helps save thousands of dollars by mitigating material waste, and rework, by keeping projects on schedule.
Save hundreds of thousands of dollars by reducing rework and mitigating material waste for your renovations.
Talk to our Scan-to-BIM experts.
How do you determine your data needs?
Knowing how laser scanning solutions need to be adopted is key to identify the right solution. Before evaluating the requirements, it is important to consider the following scenarios.
Elemental
The easiest way to use data from laser scanners is by checking construction progress. Dropping laser scan data into CAD or BIM modeling software can help identify problems
The scanned data can be used to send data or measurements to the design team for revisions and conflict avoidance
Transitional
Laser scans can also be used to inspect construction aspects and leverage additional information for corrective measures
As laser scans capture millions of points, the points can be colorized based on elevation to reveal low or high spaces
The actual volume of the material required can be calculated from the scanned data
Progressive
For renovations or construction projects that lack accuracy, laser scans can be converted into highly detailed models to occupy missing information
With high details all the way down to bolts or steel pipes, users can leverage all the parameters
Built-in libraries can be identified and modeled from the point cloud
The point cloud can be used to create paths with the right clearances to move equipment to and fro onsite
The Heartspace project at the University of Sheffield in the UK used point cloud modeling to add a large atrium between two structures viz. Sir Frederick Mappin Building and the 1885 Central Wing. The project started as a point cloud project and used FARO scanners to collect data to turn into a Revit BIM model.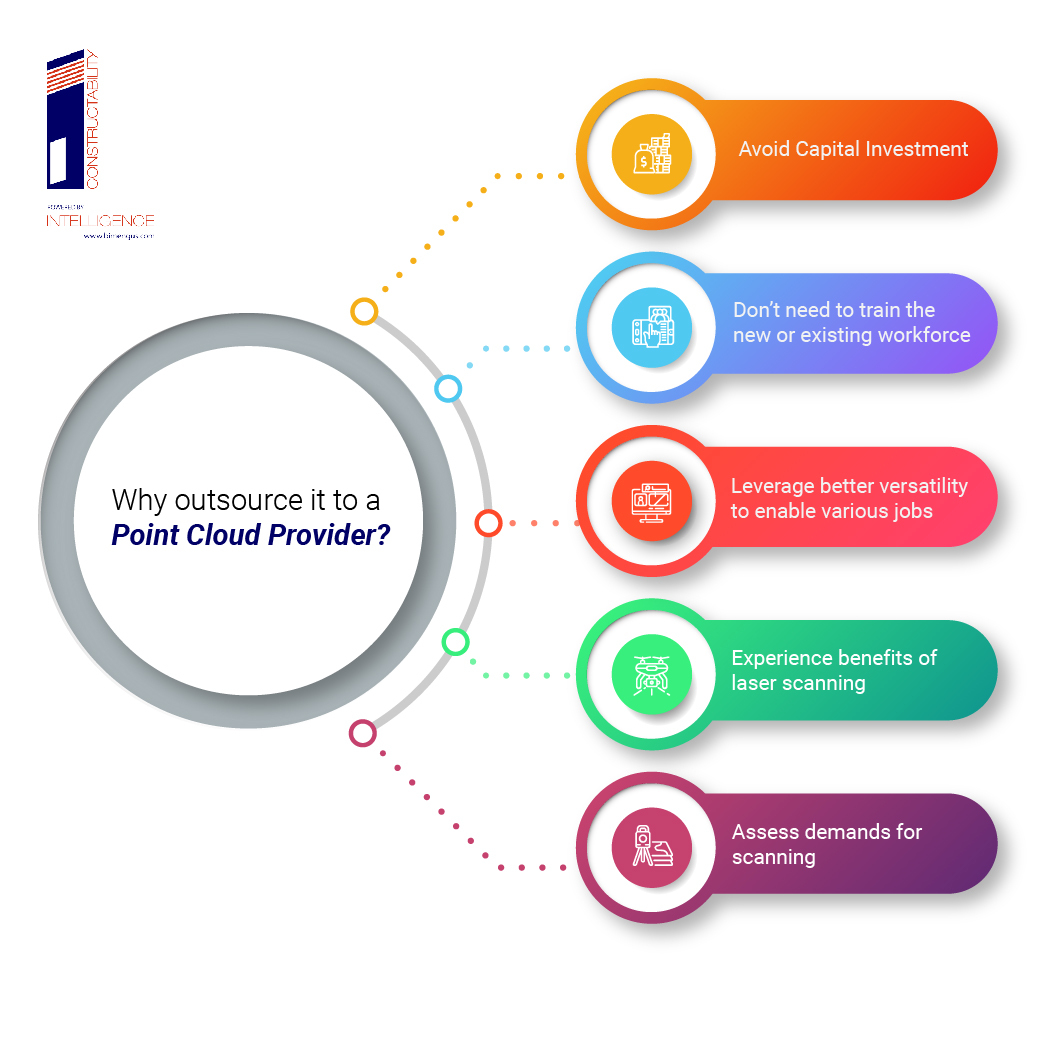 If you can't support a device purchase based on your scanning volume, outsourcing laser scanning services would be the best option to reduce costs, increase margins, and test project success.
Basic attributes to consider whilst considering laser scanning services.
Speed – speed is critical if high-resolution scans are required in short amounts of time
Range – capturing data from various locations and heights above the ground requires laser scanners with a great range
Accuracy – accuracy is the range within which measurements from laser scans are accurate
Eye Safety – scanners need to be rated by the CDRH for eye safety. Class 1 devices are the safest, whilst Class 2 devices are considered safe as well
Conclusion
Laser scans or Scan-to-BIM serves as a single digital source or point of truth for your project. It helps provide a visual and measurable platform to enable collaboration and success. Scanning during construction provides tremendous value throughout the process and to the owner as well. The scan data can be imported into working BIM models to compare for quality and expose inaccuracies early in the process to lower contractor risk.