Visualization has enhanced design workflows for the AEC industry. New and complex projects reinforced with generative design require a real-time and rich immersive experience. Revit integrations with Unity tools cut down on rework and plugs process gaps to save time and money. Unity Reflect for Autodesk Revit turns data-rich 3D BIM models into real-time, interactive, and immersive design experiences through Augmented Reality and Virtual Reality AR/VR engines.
Based on a survey conducted by Forrester Consulting, 97% of the respondents say 3D in real-time can transform processes and workflows.
AEC firms are challenged by strict deadlines and complicated project needs. Unity Reflect with its suite of tools helps stakeholders tether BIM information in real-time. Improved communication and collaboration drives quicker decision-making, bid success, error identification, and more. Powerful Unity Reflect algorithms can perform model renders at peak frame rates on a myriad of devices and platforms. Photo-realistic deliverables distributed in AR/VR reinforced with high-quality BIM data realize greater 3D visualization. Setting up project data, design errors, metadata loss, silo processes, communication gaps, and erroneous design iterations are design challenges that require powerful tools like Unity Reflect.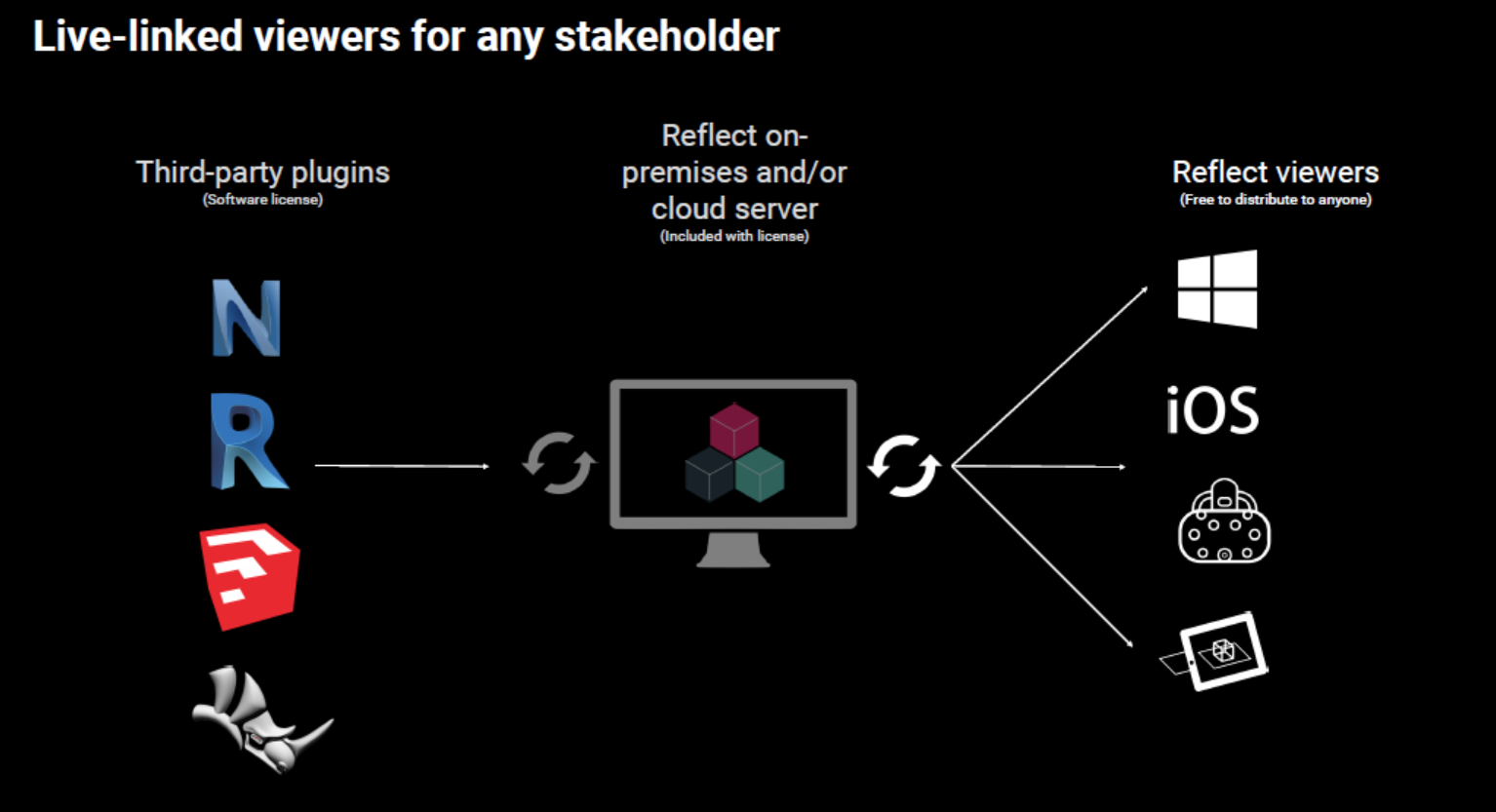 Adopting Unity Reflect in your Revit, Navisworks, or SketchUp software drives a higher and real-time 3D experience in AR and VR to plug decision-making gaps regardless of model content size, location, or working device.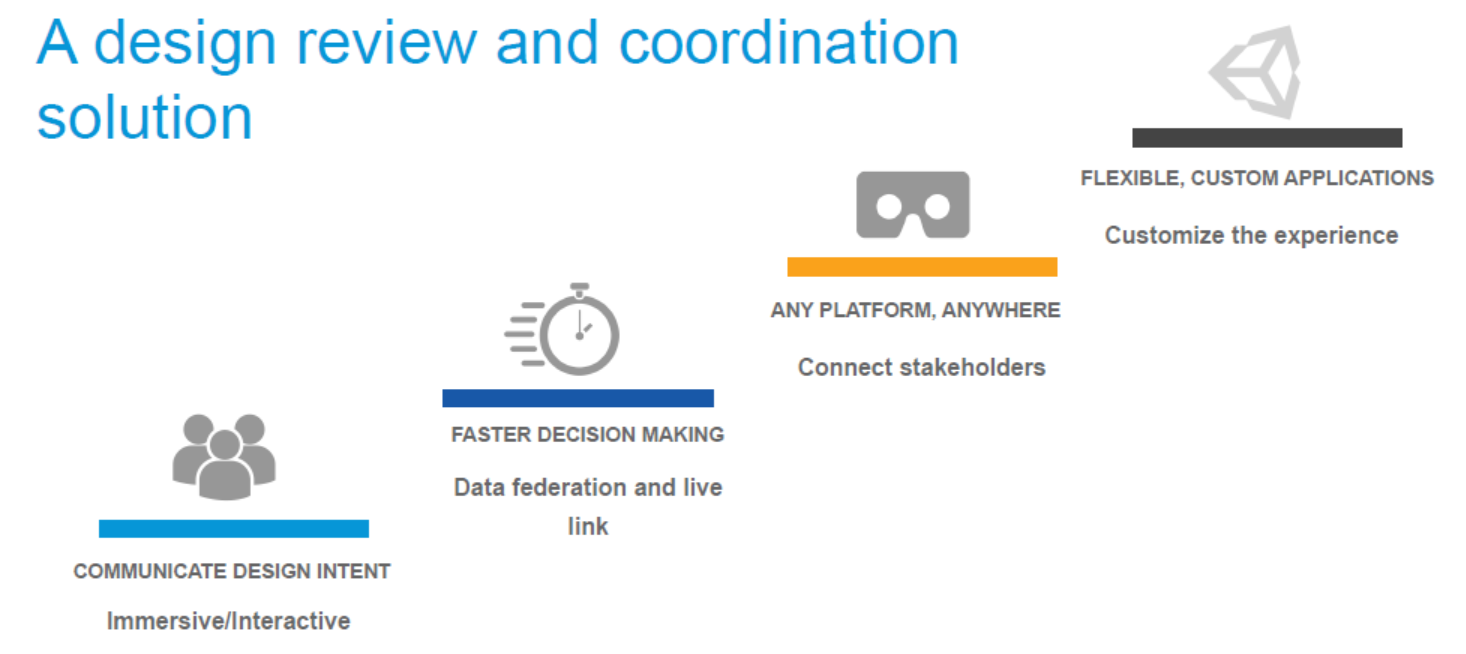 Cloud capabilities.
Teams and stakeholders using Unity Reflect with BIM tools as Revit and Navisworks can gain complete remote access to a federated model in real-time. Connecting field operations to back-office teams on various platforms augments decision-making during design and meetings.
Quick Navigation.  
Exporting a BIM model in Unity Reflect allows a seamless experience for design teams and stakeholders to navigate the model. Unity Reflect, with its easy-to-use interface and functionality assists technical and non-technical personnel to navigate through the model.
Model object selection.
With every aspect of the BIM model being selectable, teams can select design objects in real-time with rich and organized metadata. Building occupants can visualize the actual space in 3D geometry before actual construction begins.
AR/VR and Mixed Reality.
Rich BIM content of a federated model can be viewed in various formats viz. AR/VR and MR. Architectural teams can enhance the design experience for clients with a customized look and feel, create bespoke viewers, and high-performance environments.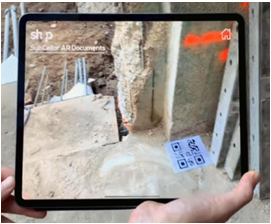 Effective tools from Unity Reflect help extract and connect geometry into Unity. Knowing the material and structural properties attached to real-time geometry helps strengthen BIM integration in comparison to standard APIs. Information is no longer locked in the BIM tool which opens up powerful capabilities of AEC workflows.
BIM object filtering capabilities in Unity Reflect can help separate objects like walls, ceilings, columns, etc. Metadata visualization in real-time can be reinforced by color-coding objects for dimensions, materials, logistics, etc. Building multiple connectors for Unity Reflect will help AEC teams push data into other software like Rhino, Sketchup, etc.
Teams can save time to document field crevitonditions with greater site visualization based on a VR experience through AR/VR headsets. Optimizing the BIM model in real-time 3D helps stakeholders leverage simultaneous visualization across various locations. The applications could be multiple viz. reviewing designs, optimizing data, immersive collaboration, etc.
Top features of Unity Reflect for Autodesk Revit.
1:1 model scaling in Augmented Reality
Connecting BIM metadata within a 3D experience
View Revit authored models in AR and VR
Communicate and collaborate on design intent
Enhance design reviews through team collaboration
Share and access 3D models on multiple devices and platforms
Cloud connectivity for multiple projects, teams, and other collaborators
Build bespoke AR/VR/MR applications for real-time 3D
Users can leverage two Unity Reflect tools viz. Unity Reflect Review and Unity Reflect Develop
Unity Reflect Review.
Teams and collaborators can get 3D models from various tools like Revit, Navisworks, Sketchup, etc. into Reflect to review models in a collaborative and immersive environment.
Top advantages of Unity Reflect Review.
Identify errors early in the design phase to avoid expensive rework
Facilitate quick and informed decision-making within a 3D immersive environment
Draw multiuser collaboration with annotations and walkthroughs
Access 3D model content on the fly through compatibility on various devices viz. Android, iOS, AR/VR, etc.
Understand and approve design intent with model overlaying in 1:1 and integrating BIM metadata
Unity Reflect Develop.
Unity Reflect Develop enables designers and engineers to build customized solutions or apps that fit unique project workflows. Developers can leverage this tool to customize the designing of digital twins, project sequencing, BIM model coordination, and more.
Top advantages of Unity Reflect Develop.
Complete and accurate data creation from various BIM software to create 3D to 7D deliverables and outcomes
Import and stream large and highly detailed 3D models
Build reusable solutions for multiple projects
Augment app development with in-built APIs, samples, etc.
Conclusion.
Unity Reflect has been a game-changer for the AEC industry. With the ability to build quick and detailed real-life experiences from 3D BIM models, architects and designers can be swift with their designing workflows. Effective communication of design intent to teams that have built them fosters positive results and clear feedback to save on time and cost.
Contact Us: – 703-994-4242
Visit us: – https://www.bimengus.com