Have you adopted the digital ways of building to improve productivity, reduce costs, and minimize risk in construction? The drive towards digitization requires a connected and digital-first approach. It's time you consider Reality Capture as a present-day technology to improve project and business outcomes through improved efficiency, build quality, and on-time project delivery.
Reality Capture technology has gained immense popularity in the world of construction & Building Information Modeling (BIM). If you're looking at quick, high-performance, cost, and time-saving scans, then Scan-to-BIM or Reality Capture is what you need to consider.
Reality Capture uses hi-tech 3D-Laser Scanning technology to build 3D models in real-time. 3D Laser Scanners are the go-to-device that provides an extraordinary ability to capture and build models for "as-is" conditions with superior accuracy & efficiency.
But, with a myriad of advantages, there is still a lot of hesitation amongst the AEC industry to embrace the full potential of Reality Capture. The future of construction will require high-end technology to make construction faster and accurate, there will be a smooth learning curve wherein AEC stakeholders will understand the true potential of Reality-Capture. With various challenges like inaccurate survey calculations, unnecessary rework, material waste, irrelevant costs, delays in work, etc. Reality Capture is the optimum solution for modern surveyors to scan buildings, infrastructure, or facilities with modern 3D laser scanners.
Lucrative project delivery is based on Building Information Modeling (BIM), and decisive collaboration. Along these lines, the visualization of a BIM model through immersive technology or AR/VR is the most effective method to gain a greater perspective in the world of construction. Various project issues can be addressed in construction such as operational feasibility, time, cost, and more. As BIM contains visual and well-informed information, it can improve project efficiency, productivity, cost, and time. In this article, we discuss the integration of Augmented Reality(AR)/Virtual Reality (VR) to augment BIM projects through AR/VR-based workflows and project collaboration.
Challenges that can cause serious rework in a project timeline include:
Structural issues that include bowing, depression, or buckling
Thermal changes onsite
Incorrect installation of MEP components
Inaccurate utility mapping
Inability to measure site changes overtime
A positive & successful BIM-based project delivery is based on mutual collaboration. This primarily relies on high-quality & information-rich 3-D models. The ability of a BIM model to augment project delivery requires much more than large computer display units, it requires project stakeholder presence as well.  An immersive medium like Virtual Reality is a high-impact solution to visualize a 3D model. A Virtual Reality simulation eliminates most of the onsite problems like installation, feasibility, and more. Furthermore, various Virtual Reality tools have been introduced in the market, but little is known about their adoption in the world of AEC.
This includes using immersive technology to solve various on-site challenges using actual BIM models. AEC projects have long been exposed to project delays and growing building costs. The need to eliminate unnecessary costs can be challenging, but the adoption of new technology can significantly reduce this risk through new Virtual Reality (VR).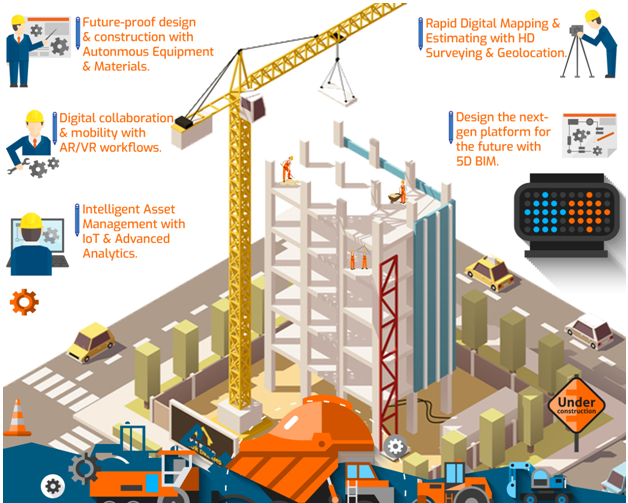 Benefits of using an AR/VR based workflow
Better project coordination – onsite and offsite
Identify potential challenges in project design
Greater efficiency in building up a robust information model for a digital twin
Better chance of winning bids or tenders
Reduce project cost and turnaround times
Based on research conducted by Market Research Engine, the global BIM market would reach a market value of 13.2 billion US dollars, by the end of 2024.
There are many reasons why a VR-based workflow should be adopted in a BIM project, but there are 5 principal opportunities that project owners, AEC firms, and stakeholders need to leverage through VR-based workflows.
As modern construction technology is shaping new project processes and workflows, it is pretty evident that it delivers greater value with smaller device sizes. From apps on mobile to hand-held laser scanners, and VR glasses, technology has set the road on solving major construction problems, and embrace BIM projects with substantial rewards.
Virtual Reality workflows are the next best thing in 3D BIM modeling, as it places project stakeholders right inside a 3D environment using modern immersive technology.
The Arizona Grand Canyon Dam is a complex engineering system that required Reality Capture technology as the Dam's Facility Documentation or inputs were primarily 2D engineering drawings. With Reality Capture technology project stakeholders could scan the exterior and interior of the Dam, and get it in a digital format to assess and address structural risks. Various technology drivers like laser scanning, aerial photography, & underwater sonar were used to create a point cloud model of the facility. This included overlays for O & M, Facilities Management, Security Power Distribution, and GIS.
Here are some opportunities wherein AEC stakeholders can leverage Reality Capture for scanning.
Removes guesswork from surveying
Rather than depending on traditional 2D drawings, manual measurements, etc. you can begin your surveying process with ease and using 3D laser scanners. Scan-to-BIM technology is one of the most impressive processes wherein point clouds can be converted into 3D models using Revit or various BIM authoring software. If there is a major piece of equipment that needs to be installed in a facility, then the onsite crew will need accurate measurements to make it happen.
The US estimates about 80% of the non-residential buildings are more than 20 years old. The need to renovate is in great demand and will continue to upscale as time goes on.
It helps you win bids
With accurate calculations, AEC companies can build accurate 3D models for renovation or "as-is "processes. With high-quality scans, firms can create a full-proof concept or potential of the project based on transparent presentations that open up a clear picture of project requirements in terms of schedules, cost estimation, sustainability, and facilities management.
Leverage high-quality prefabrication based on superior accuracy
Build precise prefab components for accurate onsite installations. This saves on rework, material waste, and unnecessary costs sand time. Thus, it removes the element of human error from the equation.
The Stanford Hospital Palo Alto Renewal Project used Reality Capture to verify steel camber beams. It took them 64 hours to scan 30% of the steel, whilst adopting Reality Capture technology helped scan the beams, steel, and concrete floor in 13 man-hours. The total scan count was 155 scans with significant cost and time savings and accurate dimension calculations for RFI's.
It upholds quality control
Using high-quality scanners, sharp and dense model scans can be done from various angles. Every piece of data is stored in the form of a point cloud, that can be stored in a pen drive, and then authored in BIM modeling software like Revit.
Can be extremely helpful for facilities management & closeouts
Once a Scan-to-BIM model is authored, it can be used by project stakeholders for facilities management for maintenance, renovations, etc. Accurate BIM models are built, they help reduce costs and save on time based on installing new components, relocating them, or knowing their exact location in the field.
Enhanced Model Interaction
Workflows based on Virtual Reality have the potential of augmenting 3D model experiences for Architects and Designers. It allows them to interact with models more intuitively, thus creating project designs that are built on software before the final product is ready to be built. The reasons it has greater viability in the construction sector would be –
It displays high interactive capabilities or the ability for users to interact in an immersive medium
It can create spatial characteristics or 3D
Users can leverage data or information from 3D models in real-time
With the technology to garner and use information directly from a 3D model, collaboration can move from an interdisciplinary to multi-disciplinary mode.
Architecture firms can leverage a 50% reduction in cost by using laser scanning vs. hiring a 2D traditional surveyor. The biggest driver with Reality Capture is time savings for a large scope.
High-end visual representation
Virtual Reality provides users a highly accurate spatial-visual representation for the exploration of a digital model. Immersive technologies deliver in-depth perception through high image quality based on head-mounted devices that provide users with the experience of being present in a virtual environment.
This helps project stakeholders understand the project in totality with all the elements and objects present as intended by the owner, architects, etc. This is one of the principal reasons why VR technology is adopted very early on in the BIM process to understand the interpretation and perceptions of various minds involved in the BIM project.
High Scalability improves project turn-around times
As every project is unique in its way, VR helps project stakeholders stay up to speed on relevant issues through project collaboration. By creating and using accurate 3D models of a large and complex project, it becomes imperative for project personnel to review it based on a collaborative basis.
The adoption of VR takes it to an all-new level by making people interact in a virtual environment through project walkthroughs and examine the site in real-time.
Instead of wasted return trips on a scanning site, project stakeholders can leverage intelligent scans in digitized formats in a matter of days.
Collaboration is key when it comes to BIM – VR partnerships
VR makes it easy for team members to collaborate in real-time. They can work in a shared environment whilst making interpretations, taking crucial decisions, asking questions, and more. The presence of collaboration reduces turn-around times, rework, and enhances accuracy, and the level of communication at all trade levels.
Adopting an AR/VR-based workflow helps remote teams work on the same page, and understand project requirements very early on in the design phase. Furthermore, during the construction phase, it helps provide a high level of input for on-site installations and deliverable.
AR/VR based workflows push customer reality to the next level
The presence of an AR/VR-based workflow helps building owners and stakeholders push customer perceptions to the next level. Instead of using 2D paper drawings, consumers can get inside their 3D project models and get a 360 view of their deliverables and the final project with highly detailed 360 photo documents.
This creates an environment where owners and stakeholders can project complete transparency in front of the customer, and make informed decisions based on client expectations. Customers can see their project unfold at every step of the project that includes viewing layouts, lighting, spaces, real-time objects, and more.
The importance of Reality Capture for Infrastructure Projects.
Capture large land areas
Leverage an accurate understanding of site conditions
Detect landscape features
Generate accurate & detailed terrain models
Compute earthwork quantities
Validate large infrastructure areas
Wrapping it up
Reality Capture is an important asset for AEC personnel to leverage upon. The future will witness faster renovations or "as-is" processes. The benefits of Reality Capture will extend beyond this list, and it has the potential to provide significant insights and accuracy. Your reality capture needs will depend on the level of expertise and project execution. Furthermore, it will provide AEC companies with a competitive edge like never before.
Virtual Reality is at a fundamental state when it comes to BIM projects and collaboration. It allows various users to feel the space in real-time, as opposed to just viewing it. With AR/VR workflows at the helm, users gain the ability to feel certain objects and environments through devices based on head motion or movements.
An AR/VR-based BIM workflow helps owners, stakeholders, and users understand complex geometry in the field of architecture and deliver value & definition for every project. By using modern processes and technology, a BIM AR/VR workflow helps engineering firms tackle various challenges and add greater profitability, value, and gratifying construction experience.
Contact Us: – 703-994-4242
Visit us: – https://www.bimengus.com