Current practices to capture field conditions are manual and tedious, and often accompanied by inaccurate data. This leads to costly rework and project delays. Whether it is a complex renovation project or a large-scale infrastructure project, traditional surveying and documentation begin with a raster image based on a 2D blueprint that is converted in CAD to an editable file. Surveyors visit the construction site to verify existing conditions with the actual blueprint and check for any inconsistencies in the existing 2D blueprints.
For spaces that cannot be captured efficiently, other processes or tools are required to be used to measure objects through an easy and efficient process. Not only is this process time-consuming, but turns out to be incomplete and inaccurate leading to costly rework, delays, and change orders.
Traditional surveying methods exhibit the following limitations.
Low reliability
Limited accuracy and data coverage
Inadequate As-Built data for 3D models or CAD drawings
Inconsistent survey information that could lead to higher survey requirements
Cost-prohibitive based on the need to hire survey experts, multiple site surveys, and costly rework
Ergo, an imperfectly set process often pulls projects into cost and time overruns due to expensive RFI's and change orders.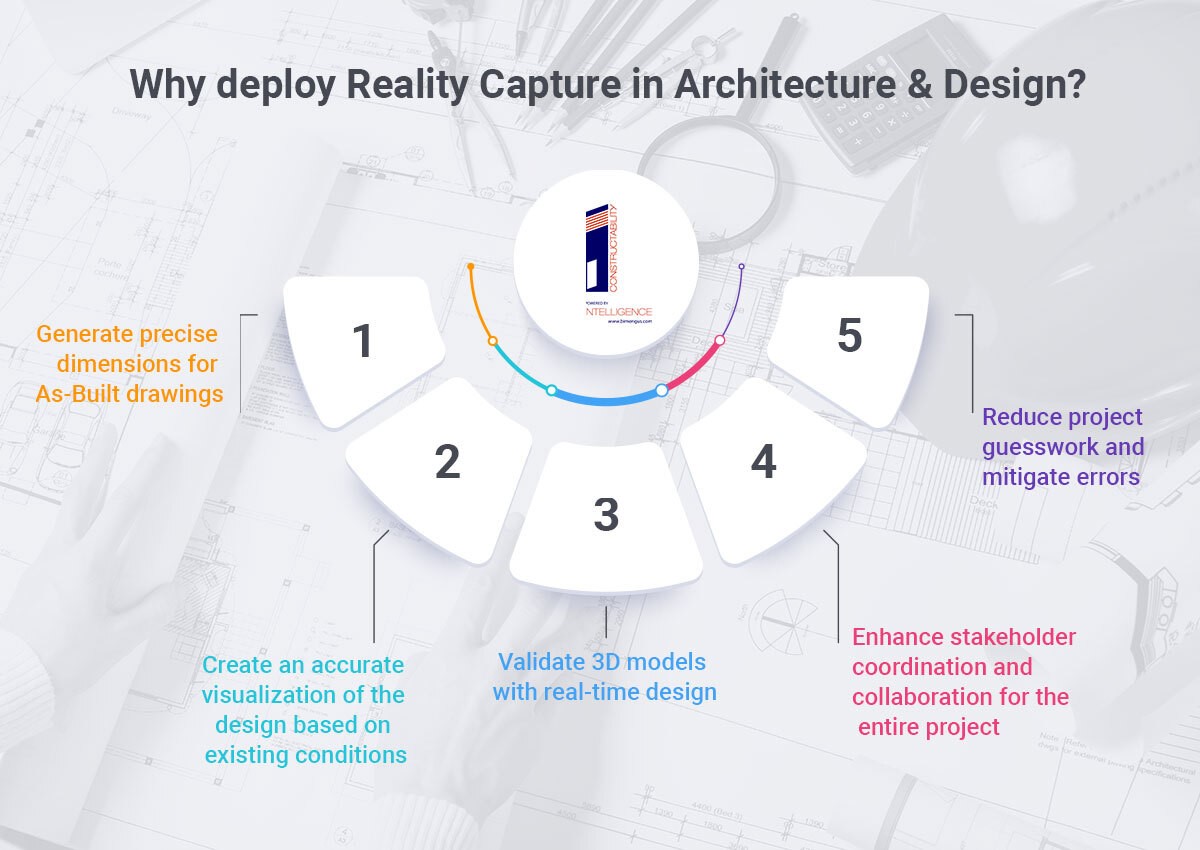 Why deploy Reality Capture in Architecture and Design?
Generate precise dimensions for As-Built drawings
Create an accurate visualization of the design based on existing conditions
Validate 3D models with real-time design
Enhance stakeholder coordination and collaboration for the entire project
Reduce project guesswork and mitigate errors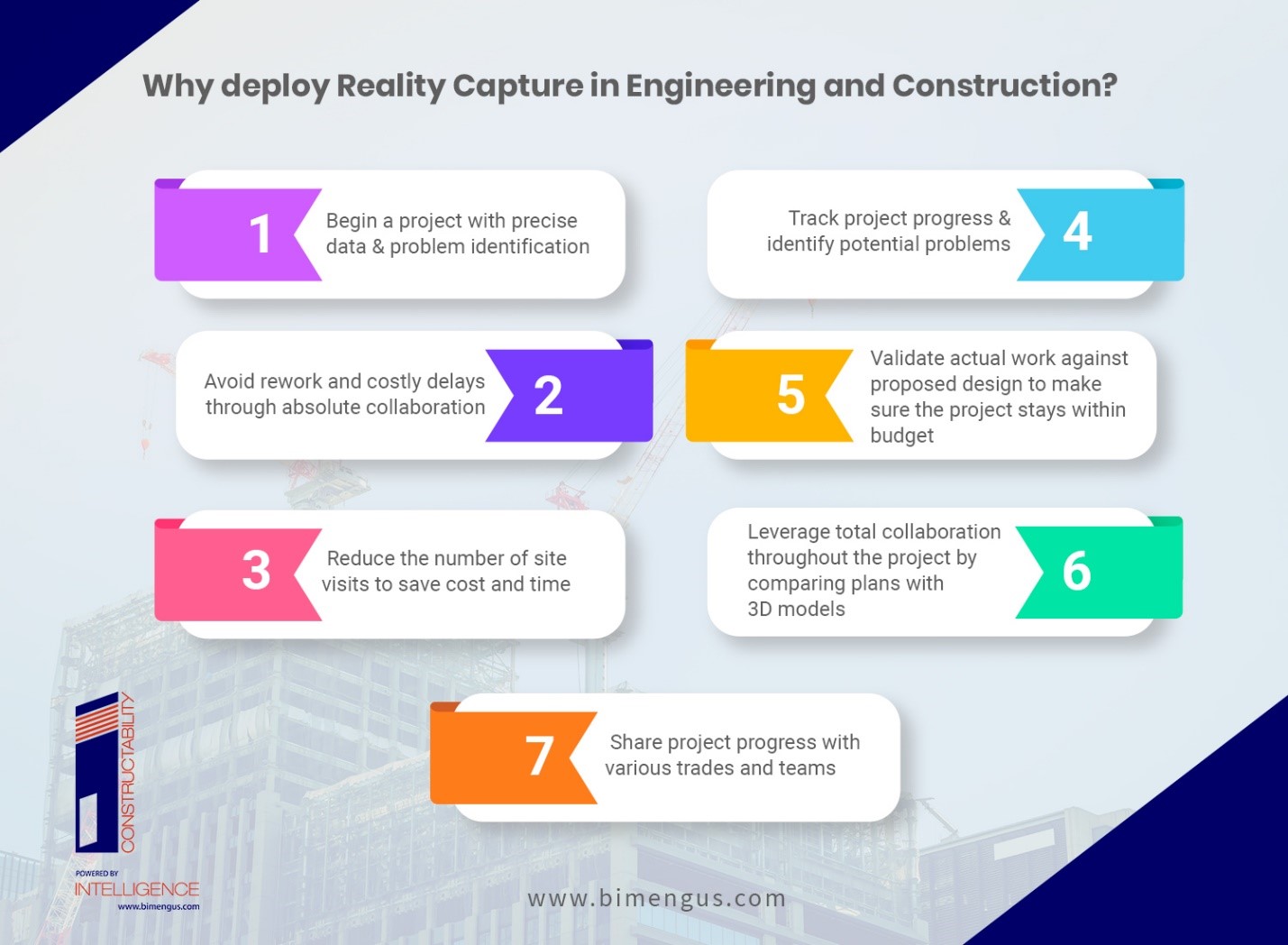 Why deploy Reality Capture in Engineering and Construction?
Begin a project with precise data and problem identification
Avoid rework and costly delays through absolute collaboration
Reduce the number of site visits to save cost and time
Track project progress & identify potential problems
Validate actual work against proposed design to make sure the project stays within budget
Leverage total collaboration throughout the project by comparing plans with 3D models
Share project progress with various trades and teams
How bad are the problems in reality?
Infrastructure, heritage buildings, residential, and non-residential buildings require deep maintenance and repair. From a Government data source, " 80% of non-residential buildings are more than 20 years old."  Non-residential buildings in the UK make up the largest share that includes health, education, and others.
Infrastructure projects that are operational 24/7, 365 days a year require greater maintenance and repair runs. Various projects that have exceeded the designated timeline may reauire complete renovation. Even infrastructure like roads, bridges, etc. may require rebuilding. As most of the older buildings or infrastructure were built before the onset of digital documentation, project stakeholders find it difficult to use inaccurate or incomplete 2D blueprints of the existing conditions. Tracking and updating old blueprints can be tedious and time-consuming. Furthermore, as projects move toward design, deploying BIM workflows for renovation projects can become quite challenging. AEC firms not deploying BIM for design and construction are negatively impacted by traditional processes.
There is a better of documenting As-Built site conditions precisely and completely. Deploying a Reality Capture workflow enables time savings, reduction in project risks, minimal workforce requirements. The deliverables based on Reality Capture are highly accurate and deliver full coverage of scanning space with real-time that can be connected to 2D and 3D BIM processes.
Reality Capture processes document a 3D digital model of spaces and objects with laser scanners – aerial or terrestrial. Millions of surface points can be mapped to create a highly-textured and high-resolution 3D model.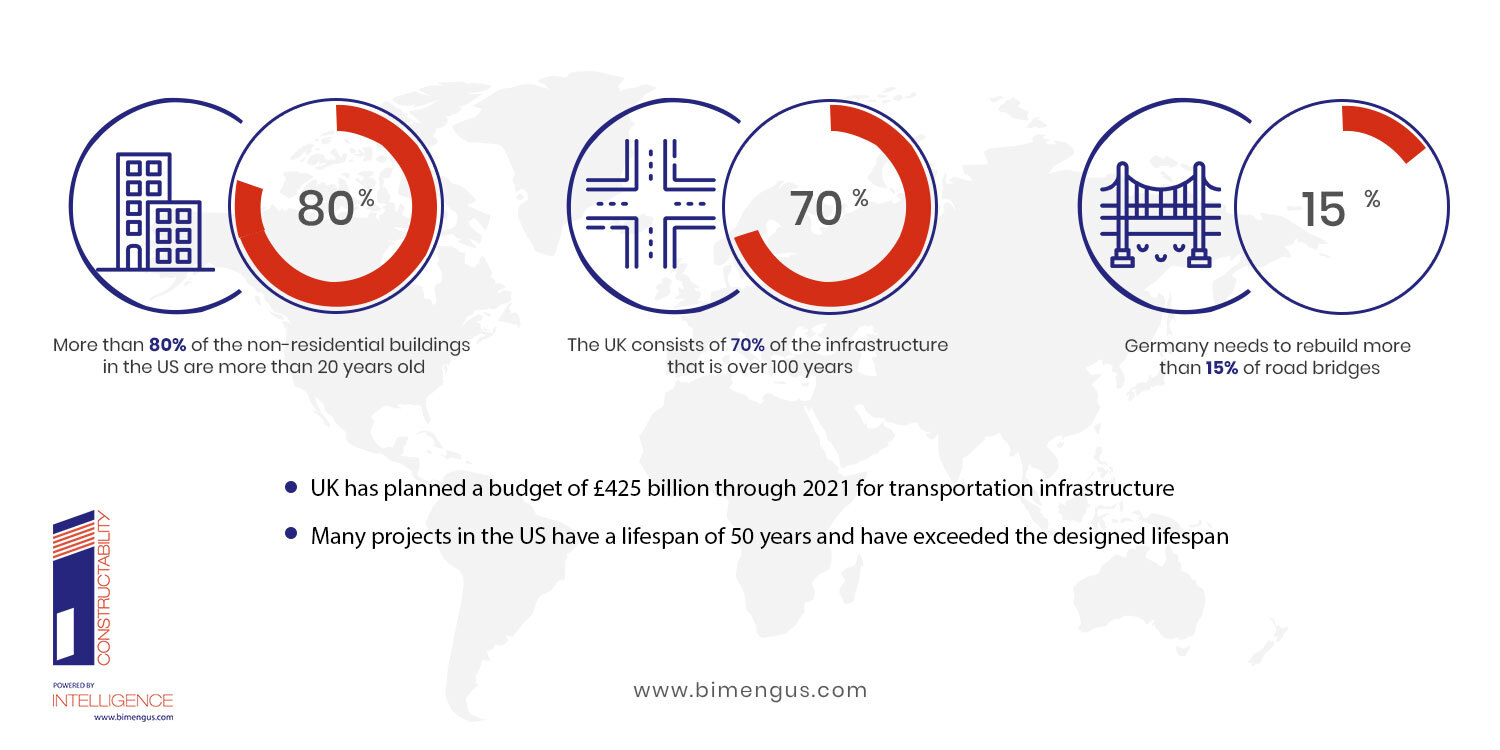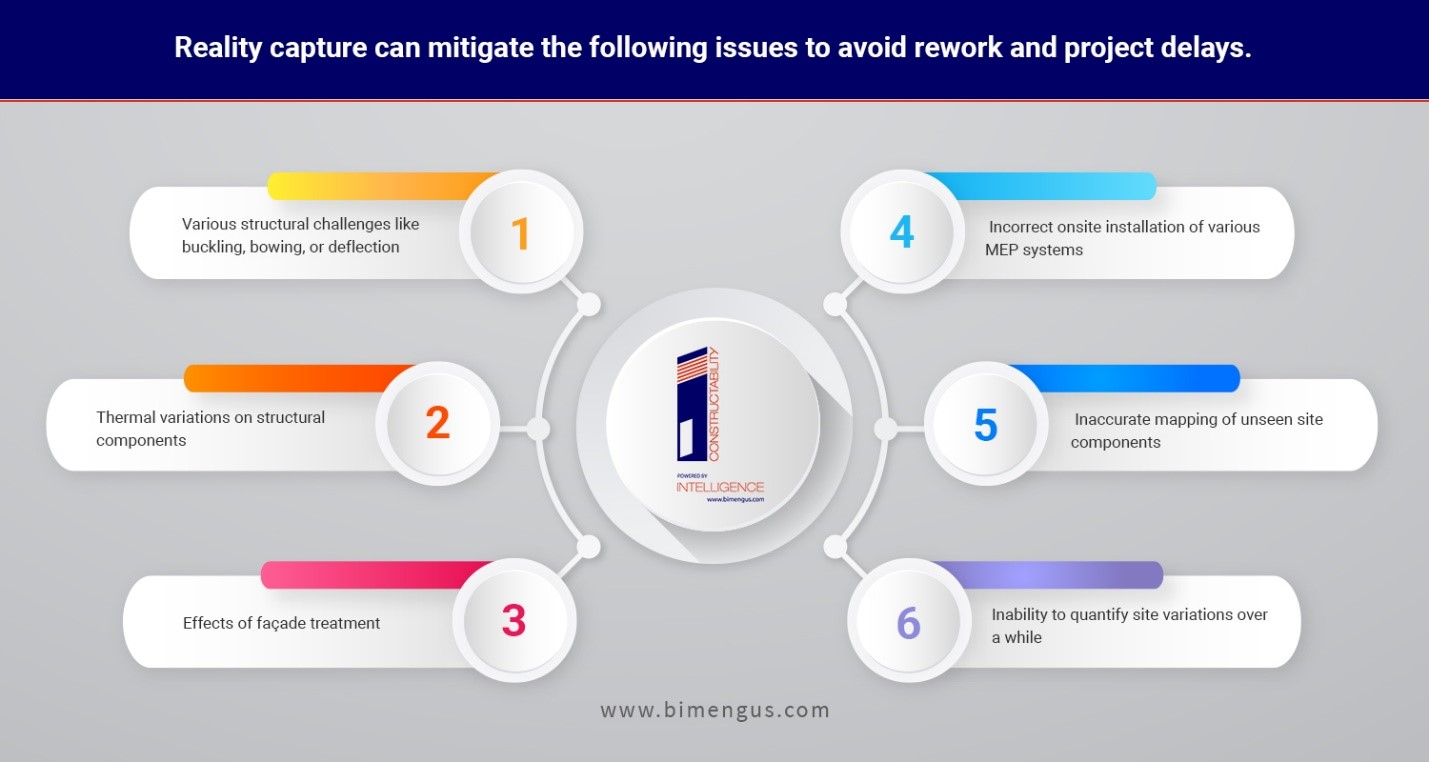 Reality capture can mitigate the following issues to avoid rework and project delays.
Various structural challenges like buckling, bowing, or deflection
Thermal variations on structural components
Effects of façade treatment
Incorrect onsite installation of various MEP systems
Inaccurate mapping of unseen site components
Inability to quantify site variations over a while
Beginning with the end in mind, Architects and Engineers can overcome challenges and handle projects better early on in the design stage. This process makes the deliverables more precise, detailed, and valuable. Enhanced interactivity with site conditions helps capture and verify onsite work.
5 ways Reality Capture has changed the way Design and Construction works.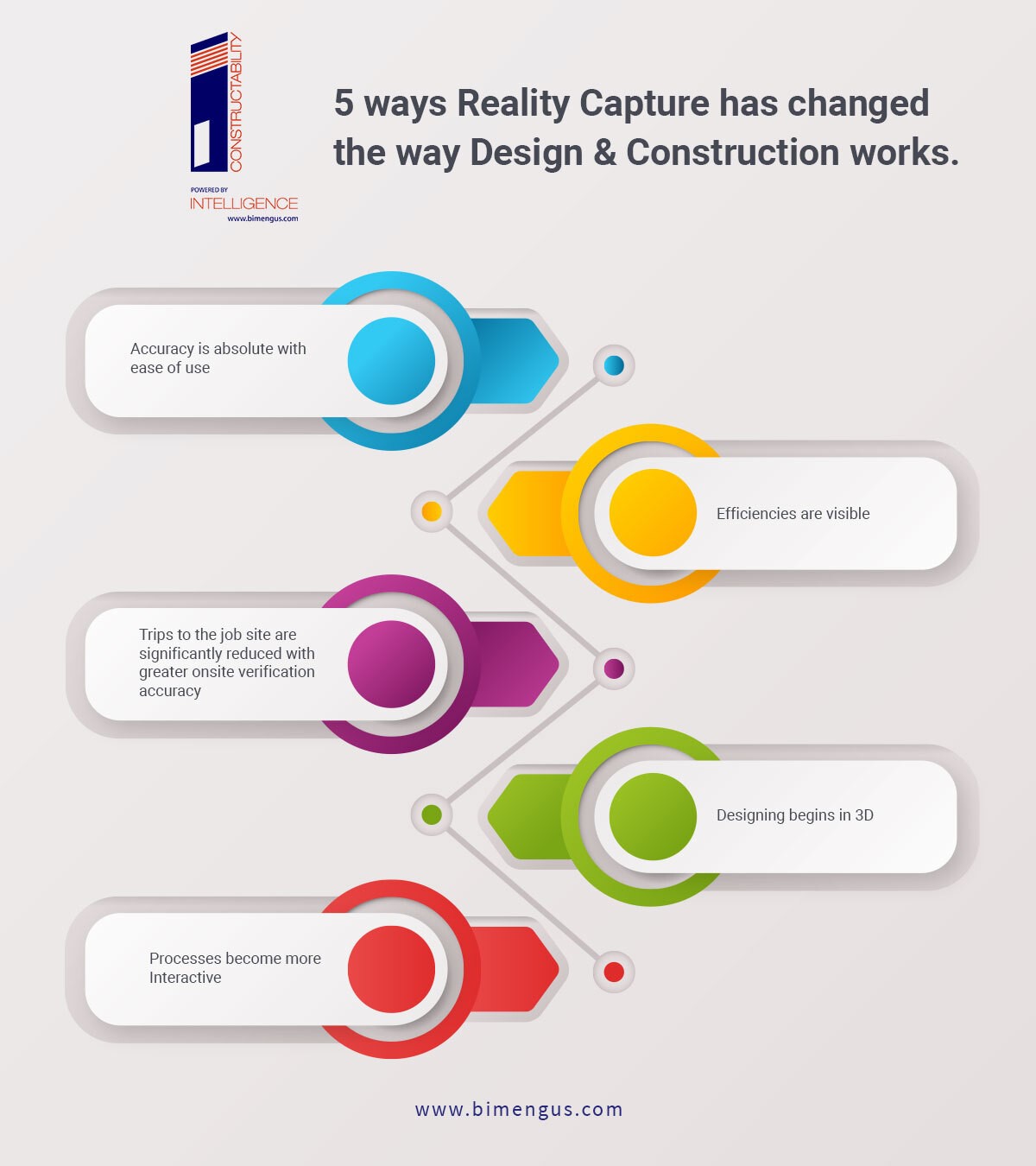 Accuracy is absolute with ease of use.
With the ability to capture millions of points and capture absolute measurements, a large project site can leverage an exceptional level of detail. Each point is mapped in XYZ geometry to create accurate and detailed deliverables for software export with ease of use. The 3D model created in model auditing software can help stakeholders view and analyze information through elevations, and the model can be manipulated using meshes. Reality Capture diminishes the need to produce rework by eliminating revisions encountered during construction. Highly detailed 3D models can be leveraged from scanned data from the very first onsite visit.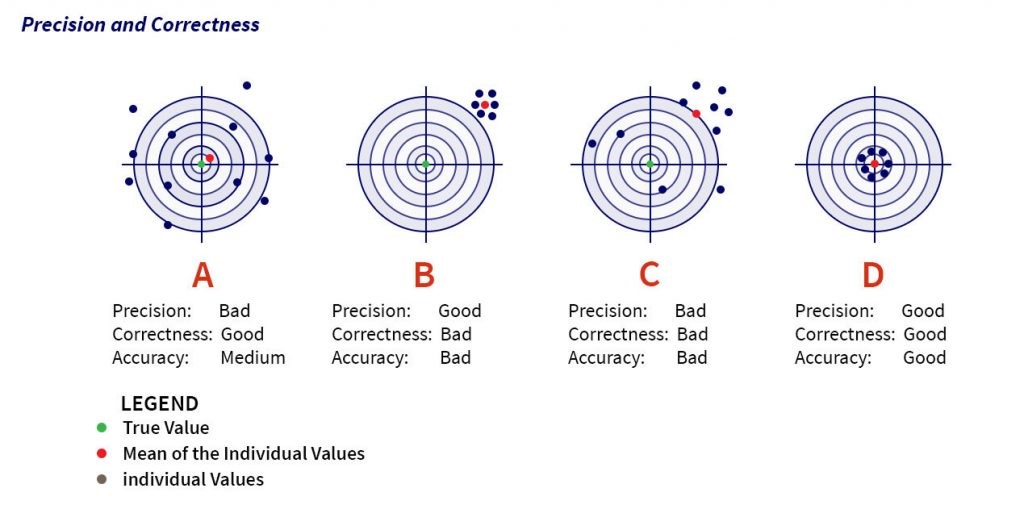 Efficiencies are visible.
The ease and simplicity of laser scanning help garner enhanced efficiencies that reduce the cost of expensive labor invested in surveying and documentation. More than 50% savings can be leveraged by using laser scanners vs traditional surveying techniques. The biggest efficiencies observed with Reality Capture are significant time savings, wherein projects with a large scope can be achieved through seamless authoring and simulation.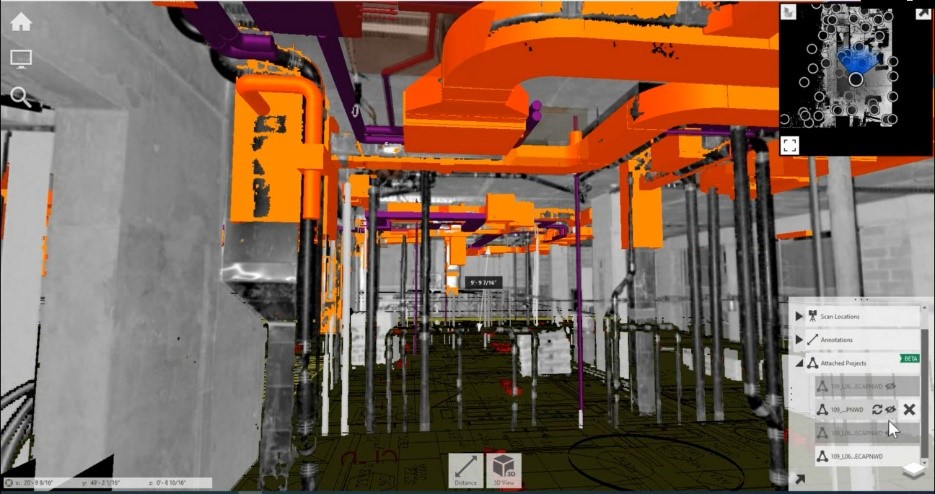 Trips to the job site are significantly reduced with greater onsite verification accuracy.
Instead of wasting time on frequent job site surveys, comprehensive laser scans can achieve complete digitized formats with intelligent 3D models. Complete coverage of every point makes it accurate, comprehensive, and up-to-date. This eliminates unnecessary site visits and augments workflows efficiencies, thereby creating greater opportunities for surveyors to add value. Project teams can ensure construction accuracy vs design intent, and the final creation of As-Built documentation. This reduces liabilities, risks, and safety concerns when onsite construction begins. Comparing the snapshot to the design intent, contractors can monitor and identify discrepancies in onsite construction. Reality Capture helps stakeholders extract a ton of site data and prevent costly rework.
Designing begins in 3D.
Exporting the point cloud to BIM software helps stakeholders realize the benefits in 3D. Design and documentation time is significantly reduced through mitigated rework – 30 % to 50% respectively. Some projects have garnered an ROI of more than 300% by capturing As-Built conditions in 3D and working around them.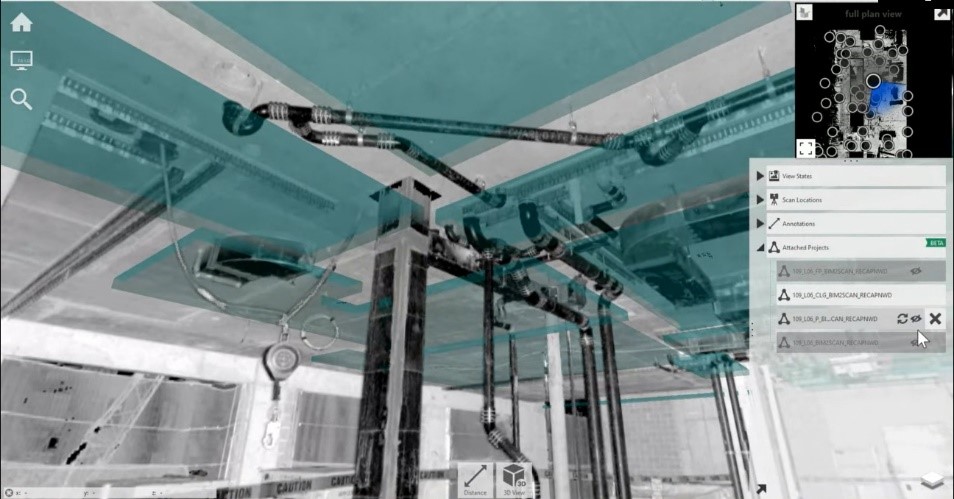 Processes become more Interactive.
Designers can leverage Reality Capture deliverables to view and manipulate them in the real world, facilitating quicker engagement. As the process becomes more collaborative, it also becomes more interactive wherein stakeholders can take notes, take team feedback, and measure As-Built conditions to speed up decision-making.
Here are the top 5 reasons why Reality Capture becomes a great asset in the Design Workflow.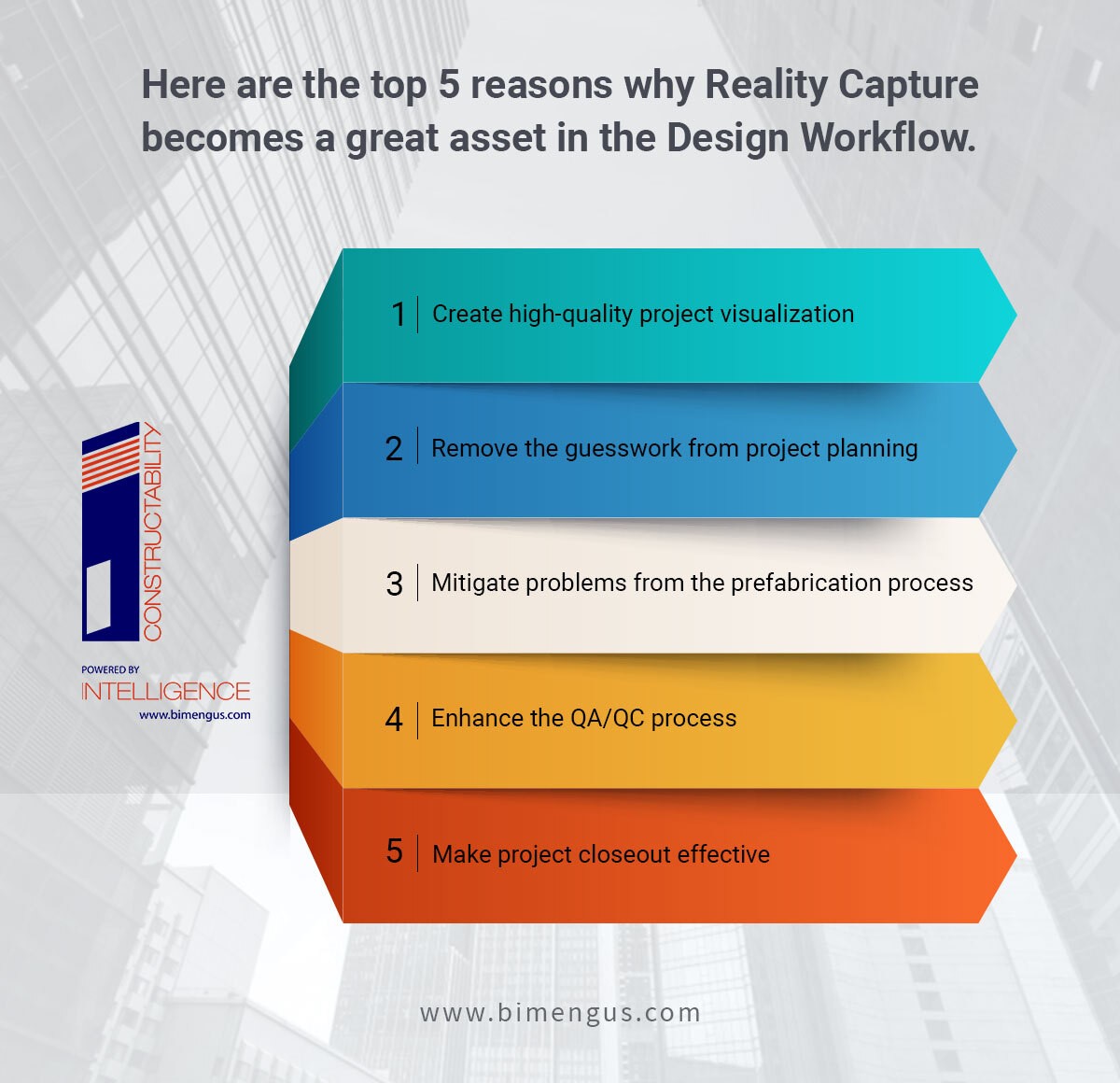 Create high-quality project visualization.
Generate high-quality project visualizations to showcase Reality Capture capabilities before the entire construction project is complete. Actual site data, topographic information, and terrain data can be integrated to create a Proof of Concept presentation.
Remove the guesswork from project planning.
Rather than deploying time-consuming manual surveys, measurements, or drawings, Reality Capture tools can be used to capture As-Built conditions quickly and precisely. Streamlining planning and execution makes the project more streamlined and accurate. Removing guesswork out of the equation reduces rework and project delays.
Mitigate problems from the prefabrication process.
Validating the presence of prefabricated components makes onsite construction streamlined. Comparing Reality Capture scans with 2D drawings and 3D models enables general contractors to verify the position and placement of objects and systems like HVAC, electrical, and plumbing.
Enhance the QA/QC process.
Documenting the site as the project progresses helps maintain project quality by knowing installation locations and sites. Reality Capture tools improve QA/QC processes with periodic documentation of site conditions with other trades.
Make project closeout effective.
Documenting precise As-Built conditions – internal and external helps project stakeholders achieve an accurate, planned, and efficient close-out. A precise closeout enables facilities managers and owners to build Operations and Maintenance strategies and technical manuals for future renovation, maintenance, or repairs.
Uses of Reality Capture for new construction projects.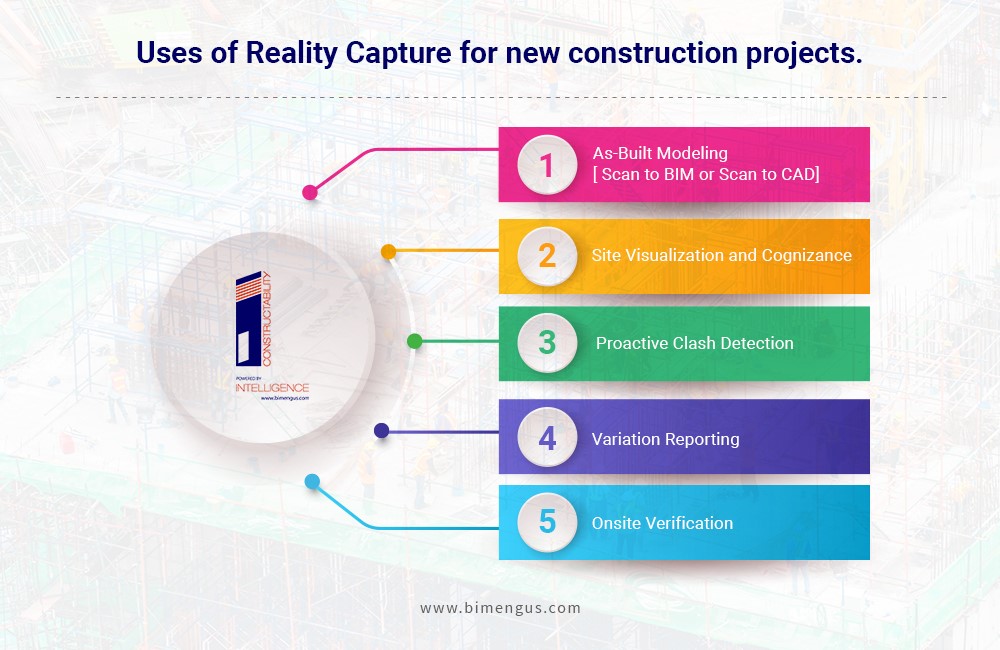 As-Built Modeling[ Scan to BIM or Scan to CAD]
In situations where 2D plans are inaccurate or outdated, the point cloud data serves as a reference point to build a new 3D model. This reduces the risk of potential errors and project delays.
Site Visualization and Cognizance
Reality Capture solutions provide stakeholders the ability to track site progress without having to constantly visit the site. A Point Cloud alone can provide visual tracking and remote measurements that can be extracted from the Point Cloud itself. This helps stakeholders make informed decisions through data sharing and viewing.
Proactive Clash Detection
Clash detection on job sites is a common occurrence for new and renovation projects. Components not fitting into their required space or location can be a result of a lack of coordination in the design stage. Straying away from the required plan can cause potential conflicts, thus, Reality Capture can be used to highlight or make the following changes.
Meeting project specifications and timelines through validation help enhance positional accuracy without any deviations. Validating onsite activities like concrete slab flatness, thermal variations, etc. before actual work begins saves on costly changes.
It is a common occurrence wherein time and cost are lost on construction sites due to major rework and errors. Incorrect fabrication and installation of components are some of the key reasons for projects to fall under serious rework. The adoption of Reality Capture to document actual site conditions on a perpetual basis generates a series of 3D data points that can be compared with the design model.
Summary.  
Reality Capture processes enable design and construction teams to leverage true confidence in their project. The difference in time, efficiency, and cost are far greater than traditional surveying. As Reality Capture provides tremendous value at every building stage, its application can be extended to complex and large-scale renovation projects by saving on ROI, reduction in field trips, and better decision making.
Visit us:- www.bimengus.com