The most important feature of a construction project is accurate budgets and cost estimations.  The feasibility of a project is determined by producing precise bidding amounts using 5D BIM.  Construction professionals are looking at 5D BIM as a new approach to quantify every piece of information required for a building project. When this is known, it becomes easier for estimators to pitch very high accurate numbers, thus increasing the probability of winning the bid. 5D cost estimations can be simply put-forth as adding the 5th dimension of estimation to 3D and 4D models.
This means owners and stakeholders have the convenience to review models that are information rich. Construction firms who offer estimation services provide BIM participants a platform to monitor the progress of a construction project added with the element of taking cost as a factor.  These services are rendered to architects, estimators, owners and contractors for various industry verticals like Residential, Commercial, Healthcare, Hospitality, and more.  Legacy cost estimations with 2D drawings can cause problems in terms of errors, inefficiencies, and more. Using a 3D model makes it easier for estimators and other stakeholders to review all the information correctly in real-time.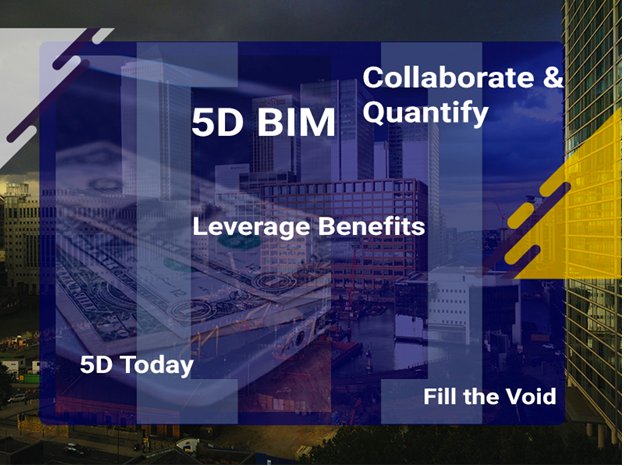 Cost management requires highly skilled professionals to quantify relevant information and provide sophisticated estimations for a project. 5D BIM managers or professionals need to educate project owners and stakeholders on various phases of the building cycle; each phase incurs costs for equipment, materials, workforce, etc. Hiring a 5D BIM firm at the start is a liability for project owners, but it exceptionally beneficial in the long run of the project progress.  A cost manager can simulate various designs and scenarios in real-time to increase the value of the cost management process.
In the present scenario, owners want to adopt 5D BIM services for their projects. It gives them a clear idea on what costs they would need to incur, and unforeseen costs that can incur whilst the project progresses. The contribution of a cost manager increases whilst producing 5D estimations, but it decreases the amount of work that needs to be done for the construction manager.
Collaborate better with Quantification
5D BIM can be achieved through software automation as an estimator can use the information that is added in the model, and create very high precision cost estimations for a takeoff.  This increases the productivity of an estimator by huge margins. With better collaboration, owners and stakeholders can provide accurate estimates during the entire design phase. With 5D estimations, the impact of various other costs can be quantified to create a precise estimate. With greater number of people taking part in the collaboration process, it becomes easier to understand work or tasks in the form of models coming from various sources. These way estimators can produce highly efficient designs, performance and costs.
Fill the Void
Legacy systems worked on the principle of frigid design, but through various construction innovations in the construction sector, the path has moved to an evolving design.  2D drawings were completing inaccurate in calculating project costs.  Thus, new processes and workflows were required to fill up the void between the pre-construction phase and the initial design phase.  The adoption of 5D BIM in conjunction with 5D BIM software and tools like Revit has enabled all the stakeholders to create clear and precise project plans.
Visual data modeling creates an efficient definition of the project plan. It is based on materials, conditions, phasing and other parameters that deliver accurate information in conjunction with owner view and timeline.  The entire team is able to understand scope, designs, and costs through precise numerical calculations, rather than working on assumptions.
Benefits of 5D BIM estimation
Proven estimation success through centralized data
High quality visualization of the end product through precise cost estimations and transparency
Automatic model updates help change construction costs in real-time
Shorter project lifecycles generate better ROI
Clear understanding of the project scope
In the end,
5D BIM has moved to the cloud wherein all the stakeholders can review the information anytime. In the present and future, it is and will be crucial for owners and construction professionals to focus on interoperability between estimation technology and modern construction software. BIM construction cost estimations help mitigate unnecessary risks and help plan efficient construction cost control.
To know more about latest blog Read More